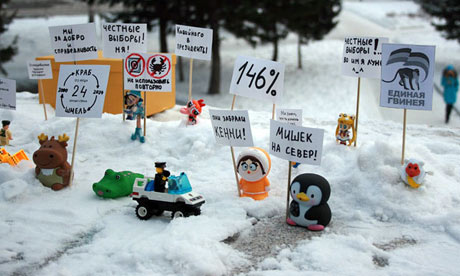 From the Guarduan: 
"Russian police don't take kindly to opposition protesters – even if they're 5cm high and made of plastic.
Police in the Siberian city of Barnaul have asked prosecutors to investigate the legality of a recent protest that saw dozens of small dolls – teddy bears, Lego men, South Park figurines – arranged to mimic a protest, complete with signs reading: "I'm for clean elections" and "A thief should sit in jail, not in the Kremlin".
"Political opposition forces are using new technologies to carry out public events – using toys with placards at mini-protests," Andrei Mulintsev, the city's deputy police chief, said at a press conference this week, according to local media. "In our opinion, this is still an unsanctioned public event."
Activists set up the display after authorities repeatedly rejected their request to hold a sanctioned demonstration of the kind held in Moscow to protest disputed parliamentary elections results and Vladimir Putin's expected return to the presidency in a March vote."
continue reading
.
It's sad because it takes a cutesy photo like this, one that is complete internet blog bait, to get some international attention. Again, my new enemy NPR, I remember about 2 months ago driving to get my sister after work and NPR was doing nothing but gossiping about Republican candidates, so I switched around finally to see what other talk radio stations were out there. I found one other news talk station that was airing a very loose call in show that was featuring a long phone conversation with an American journalist in Russia. She explained why people were upset and what it took to get them so mad to protest in such a major and historic way. This conversation was at least 15 minutes long, not a 4 minute and forget it style piece a la NoPointRadio. That really woke me up to how much were missing out on. (And let me add, I get "woken up" all the time. I find it has to be a continual process because it starts to fade and you slip back into complacency.)
All that aside, what can we do to help these people? This doll protest is one of the greatest, funniest things ever. I love that the human spirit can turn desperate times into not only desperate, but creative and funny measures.  Here's another example: a Banksy supported art collective painted this giant phallus on a draw bridge that faced the local FSB headquarters (aka the successor to the KGB).
lol's.