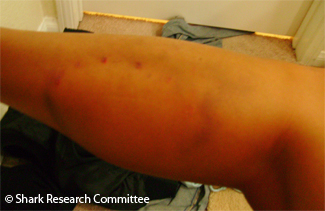 NBC San Diego
: "A woman was attacked by a baby Great White shark off the coast of Carlsbad less than a week ago, suffering bites to her foot and calf.
Lifeguards working along the beach have been told of the attack and say it's very uncommon in our waters.
According to Bethany Edmund, whose account of the experience appears on the Shark Research Committee website, she was taking pictures with her new underwater camera at Terramar, the popular surfing spot around 4:30 p.m. August 25 about 250 to 300 feet from shore.
She writes that she spotted a sea bass jump in front of her while she was in the water. As she tried to take a picture, she felt a sharp pain in her right foot.
"Thinking I might have kicked the reef, I shrugged it off and continued taking photographs," she wrote. "About 30 seconds later I felt the same sharp pain and, this time, I began to swim away from the area."
Seconds later, as she was swimming Edmund said she was hit on the upper right thigh and "propelled about 1 foot out of the water."
She realized she was being attacked and started to body surf toward shore. She felt something grab her calf and pull her back under the water.
"I ignored what had just occurred and caught another wave to the beach. This time I felt the same sharp pain in my left calf, but this time I was dragged under water and shaken for 4 – 5 seconds," Edmund wrote. "During this struggle I accidently kicked the shark and it released me."
She contacted lifeguards the day after the attack and described the shark as about 6 feet in length with a dark blue/black top and a white belly.
We spoke with one Encinitas lifeguard who had been told of the attack. "A shark specialist looked at her injuries and confirmed the bites are those from a baby Great White," said Elena Tellechea. "But the wounds didn't even cut through the skin.""