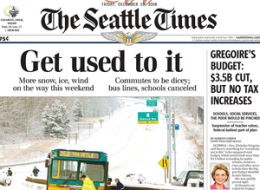 SEATTLE (AP) -- The Seattle Times on Friday asked 500 managers and nonunion workers to take a week off without pay in the face of mounting financial troubles at the newspaper.
Executive Editor David Boardman broke the news in a meeting with editors Friday morning.
Employees may take the week off all at once, one day at a time, or in multiple-day blocks, but it must be taken by the end of February, Alayne Fardella, senior vice president for business operations, wrote in a staff memo.
"I regret that we do not have better news for you at this time," Fardella wrote. "It has been and continues to be a long and difficult fight for our survival."
The Times has cut nearly 500 positions in the past year, leaving it with about 1,410 full and part-time employees. Executives have warned that more job cuts could be coming next year, and Fardella wrote in her memo that The Times would be asking for concessions from unions representing the newspaper's workers after Jan. 1.