By Paul Halychuk
Bicycles will be unusually present at both upcoming US national conventions; the Republican Party's in Minneapolis and the Democratic Party's in Denver. One thousand bikes are going to be made available for public use at each convention thanks to a bike sharing program organized by a partnership between the health insurance company Humana and the cycling advocacy group Bikes Belong. Anyone will be able to sign out the bikes from automated kiosks set up around each host city and use them for free.
Humana is renowned for starting a bike-sharing program for their employees on their large corporate campus in Kentucky. The program turned out to be very popular with employees, with over 2,500 registering to use the program within a short time after launch.
Seventy bikes and a number of kiosks will remain in each city after the conventions, with the hope that they will be used by local organizations to start their own bike-sharing programs. Whether such programs succeed remains to be seen. Some analysts believe that a larger number of bikes is required for a program to be sustainable, as evidenced by the success of large programs with many thousands of bikes versus the struggles of smaller programs with fewer than a hundred bikes.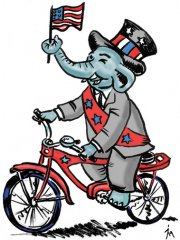 -----
Paul Halychuk is the news editor at MOMENTUM. He kayaks, hikes, snowshoes, surfs, skis, and (of course) bikes. In his spare time, he creates fabulous giant flying creatures.